Spirit Of '76
The Wife Lives On!

These are some cool pictures I took of my wife back in '84,
when she got trashed after a 4th of July party.

Just scanned 'em in...take a gander!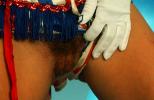 More pics, as soon as I scan them in!

My wife does not know she is a part of the
Zippy & Blamo Adult Web Ring
Click here for another wonderful site from Zippy & Blamo.