Yolanda's 5th Baby!


These were taken by my man, Ro-Ro Jones. He thought it would be a good idea to take some pictures of my 5th child (3rd with him).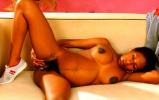 Ro-Ro gots the film developed. 10 new pictures, but I still
dont's like the shoes he got me. Damn!
Please click on our advertising, mama needs a new pair of shoes!




Try this site out for FREE!!!

Yolonda is reluctantly part of the
Zippy & Blamo Adult Web Ring
Click here for another wonderful site from Zippy & Blamo.